Our colleague Ben Morris
has been keeping a close eye on gold
.
Back in April, he noted that gold was close to breaking out of a multiyear chart pattern that could send prices much higher. But it wasn't yet official, so Ben recommended being patient and waiting for confirmation before getting too bullish on gold and precious metals.
That was good advice – gold reversed and moved lower for several weeks.
In the past month, gold has been moving higher again... And it's close to breaking out of this long-term pattern. As Ben noted in his DailyWealth Trader service this week...
I haven't recommended opening a new bullish position in gold stocks since mid-March. We've been waiting for a better trade setup... We've been waiting for gold to break out of its long-term "wedge"...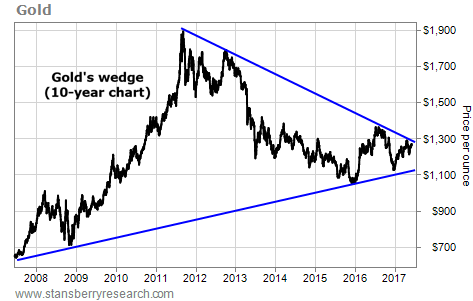 As Ben explained, when an asset trades within a wedge pattern, it becomes compressed like a spring. When it finally breaks out, it often makes a big, powerful move.
Today, gold is back near the top of the wedge. It's once again trading right around the level at which it could begin a big breakout to the upside...
This is a bullish sign...
Still, Ben continues to recommend patience before getting too bullish on gold and precious metals again...
Now, we don't want to jump too soon. Trend lines like the ones in the charts above aren't exact... And they aren't foolproof. Sometimes assets will break out by a little bit and then fall right back down into their trading ranges.
I'd like to see gold trade above $1,300 per ounce before we make our move. And that could happen soon... On June 14, the Federal Open Market Committee ("FOMC") will announce its next interest rate decision. Futures traders are placing the odds of a rate hike at 100%... And they'll likely be right.
The common view is that higher rates are bad for gold. But... the last two times the FOMC raised rates, gold bottomed the following day... If that pattern continues, we could see gold prices drift lower before the decision and rally after it.
No matter what happens, though, our stance in DWT hasn't changed. We want to see gold break out (convincingly) before we buy. That's when we'll have the best trade setup... Our downside risk will be low. And our upside potential will be enormous.
Meanwhile, we just got a rare bullish signal for stocks...
According to a recent note from Morgan Stanley strategists, an unusual indicator – based on the widely followed University of Michigan Consumer Sentiment Index – suggests the bull market will continue.
In short, the U.S. is currently in a bullish period of "elevated and stable" consumer sentiment. From the note...
We define elevated and stable consumer sentiment as: 10-month rolling average is above 90, and year-over-year change is not greater than 10% and not less than -10% for 10 straight months.
The firm's analysis shows this situation is rare...
It has only occurred five other times in the last 40 years: in 1985, 1995, 1998, 2002, and 2005. And each time, it has been incredibly bullish for stocks...
According to the note, the benchmark S&P 500 Index produced a median return of 21% and 42%, respectively, over the one- and two-year periods following each positive signal.
The latest signal was triggered last June... And the S&P 500 has rallied about 17% in the 11 months since. This not only suggests the indicator still "works," but it also implies much more upside remains ahead.
We never recommend giving too much weight to any single indicator. But this is just one of several notable signs that suggest stocks could go higher – potentially much higher – before this long bull market finally ends.
In fact, our colleague Steve Sjuggerud believes we'll see a "Melt Up" – an explosive final stage of the rally – where the stodgy Dow Jones Industrial Average more than doubles to 50,000 before it all ends... and many individual stocks absolutely soar.
It sounds incredible, we know... But Steve's research suggests it's not only possible, it's
highly likely
. He has prepared a short presentation explaining it all.
Click here to see it now
. (This does not lead to a long video.)
Regards,
Justin Brill