You're not going to want to hear this. No one wants to hear it right now...
But we have an incredible opportunity to buy silver.
It doesn't feel good to trade precious metals here. Gold is down more than 10% from its highs this year. Platinum is down 20%. Silver is down about 27%.
But here's the thing: Everyone feels bad about precious metals... Silver in particular. And that's why it's such a big opportunity. Based on history, we can expect to make 20% or more over the next three months... by simply buying silver today.
Better yet, if this situation kicks off a new bull market – like it has three of the last four times – we have the potential to make even larger gains, as much as 100%, in the next six to 12 months.
Let me explain...
As I said, silver is hated right now. Specifically, futures traders speculating on silver are near all-time "short" levels today. As a rule, when futures traders all think the same thing, the market tends to do the opposite.
You can see it in the chart below...
When the blue line is high, silver traders are going long – and we expect silver to fall. When the blue line is low, silver traders are short... The contrarian investment is to buy silver.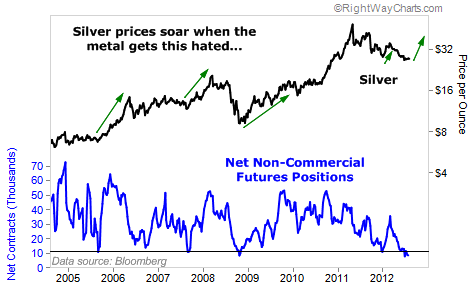 You can see that silver traders are near all-time short levels today. In fact, we've only seen this extreme level four other times in the last seven years.
Every time was a great opportunity to buy silver.
If you bought silver the last four times it reached today's extreme, you'd be up an average of 20% over the next three months. All four trades were good for double-digit gains.
Importantly, three of these four trades signaled the beginning of a fresh, longer-term uptrend in silver. Those signals led to even larger gains over the following months. Take a look...
Trade Date

3-Month

Gain

6-Month

Gain

Gain to

New High

Months Until

New High

2005

22%

46%

105%

8

2007

16%

64%

71%

6

2008

28%

38%

98%

13

Average

22%

49%

91%

9
Of course, we can't know if today is the start of the push to new highs for silver. But 91% average returns in just nine months is enough to get me interested.
You can easily buy into this trade through the iShares Silver Trust (SLV). This simple fund does a fantastic job tracking the silver price.
One thing note... silver is in a real downtrend right now. Longtime DailyWealth readers know we prefer to wait on an uptrend. But with sentiment so negative, it's hard to imagine silver moving much lower from here.
If you do buy today, consider using a tight stop loss at SLV's recent low ($25.63). That's just 3% below today's price. But with 20%-plus upside and only 3% downside, it's an excellent risk/reward opportunity.
Remember, silver moved higher each of the last four times sentiment got this negative. Our average gain was 20% in just three months. And if this kicks off a bigger move in silver, we could make much, much more.
No one wants to hear about it... and the crowd says sell... So we're buying.
Good investing,
Brett Eversole